Before Rainfall
A poem for The People's Forest
Poem – Will Burns • Artist – Walter Spradbery
---
Before Rainfall
Foggy morning. Close afternoon.
Summer in changeable times.
The trunks of the trees
dark with perspiration.
Every few yards my eyebrows burst their banks.
A whole taxonomy of wrongs—
wrong day, wrong path, wrong weather
(wrong clothing?).
Different versions of things
pass by on the other side of the wood.
I turn down The Traveller's Rest,
bus stops, the road to town.
Something is about to give, or break.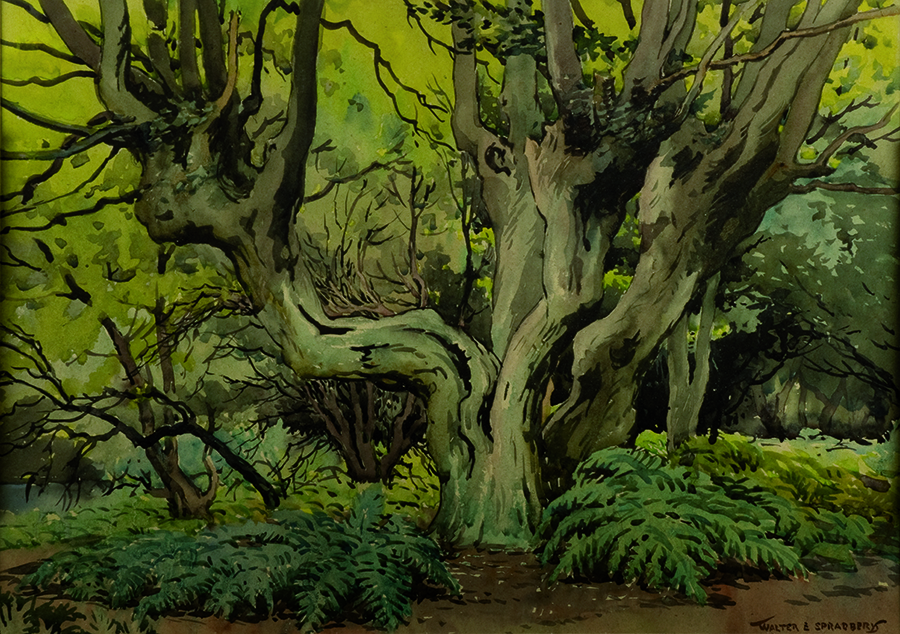 ---
Poet, Will Burns is walking from Epping Forest to Wendover Woods, shaping a new series of works to be released throughout the year as part of The People's Forest – revisiting family history, memory and the forest.
In a time of accelerated climate change, 'Before Rainfall' looks back on the intense heat of summer and at what connects the poet with both the woods and his own complex interior landscape.
"Epping Forest has loomed strange in my imagination since childhood. I grew up just outside its shadow, in Enfield, and my mother was born in Epping itself without ever knowing the place. Since moving out of London aged ten, I have always loved woods – whether 'my own' out here in Wendover, or others that I've visited. They are places unlike any other in our imaginations and I feel as if there's a whole chapter of my memory linked to that part of London but somehow missing. I hope to recover it through a year of walking and thinking and writing in the forest."
The People's Forest season is a year-long programme of public gigs, workshops, artworks and performances taking place as part of the Mayor's first London Borough of Culture in Waltham Forest. Curated by arts consultant and event producer Kirsteen McNish and writer Luke Turner, the season celebrates the borough's unique relationship to Epping Forest.
---
Will Burns was born in London and lives in Buckinghamshire. In 2014 he published his debut pamphlet in the Faber New Poets scheme and in 2019 his collaborative work with the composer Hannah Peel was released as the album Chalk Hill Blue. His first full collection is forthcoming with Offord Road Books in 2020.
Walter Spradbery was born in East Dulwich, London. He studied at Walthamstow Art School, then worked as an art teacher. He regularly exhibited at the Royal Academy, and worked as a watercolourist, linocut artist and poster designer. His poster designs were produced mainly for London Transport, but he also designed some posters for British Rail and the LNER. A lifelong pacifist, he served in the Royal Army Medical Corps during the First World War, and was also an official war artist.
'Epping Forest' by Walter Spradbery (1889-1969) © William Morris Gallery, London Borough of Waltham Forest