---
Professor of Environmental Change and crofter, Annie Worsley, writes about a shared love of the autumn season and of reading.
A few weeks ago, I received a message from Miss Ingram, a young teacher at Devonshire Road Primary School in Bolton near Manchester. She'd read an essay of mine to her class of eight- and nine-year-olds which had been published in an anthology, Autumn, edited by writer Melissa Harrison. This essay is about autumn in the Scottish Highlands and Miss Ingram had encouraged the children to read it again for themselves then together they discussed how it's possible to describe in both prose and poetry what they see and feel. The class then wrote about the season of autumn and each child produced a piece of writing. I was enchanted that Miss Ingram had selected my essay and I replied to her saying how thrilled I was and asked if I could see some of the work once it was finished.
Some weeks later Miss Ingram got in touch again, sending a selection of the work the children had created. The various pieces are written by children for whom English is a second language. They are all wonderful, full of imagination and magic, and they clearly pulse with the child's own excitement and joy at seeing the wonders of the season. The children have also illustrated their work beautifully.
I wonder if there are times when we do not give children either the opportunity to engage with literature published with older readers in mind or credit them with the ability to tackle adult non-fiction, deconstruct it and learn about using words in different ways. How wonderful to see that a young teacher's encouragement proved that this is not the case.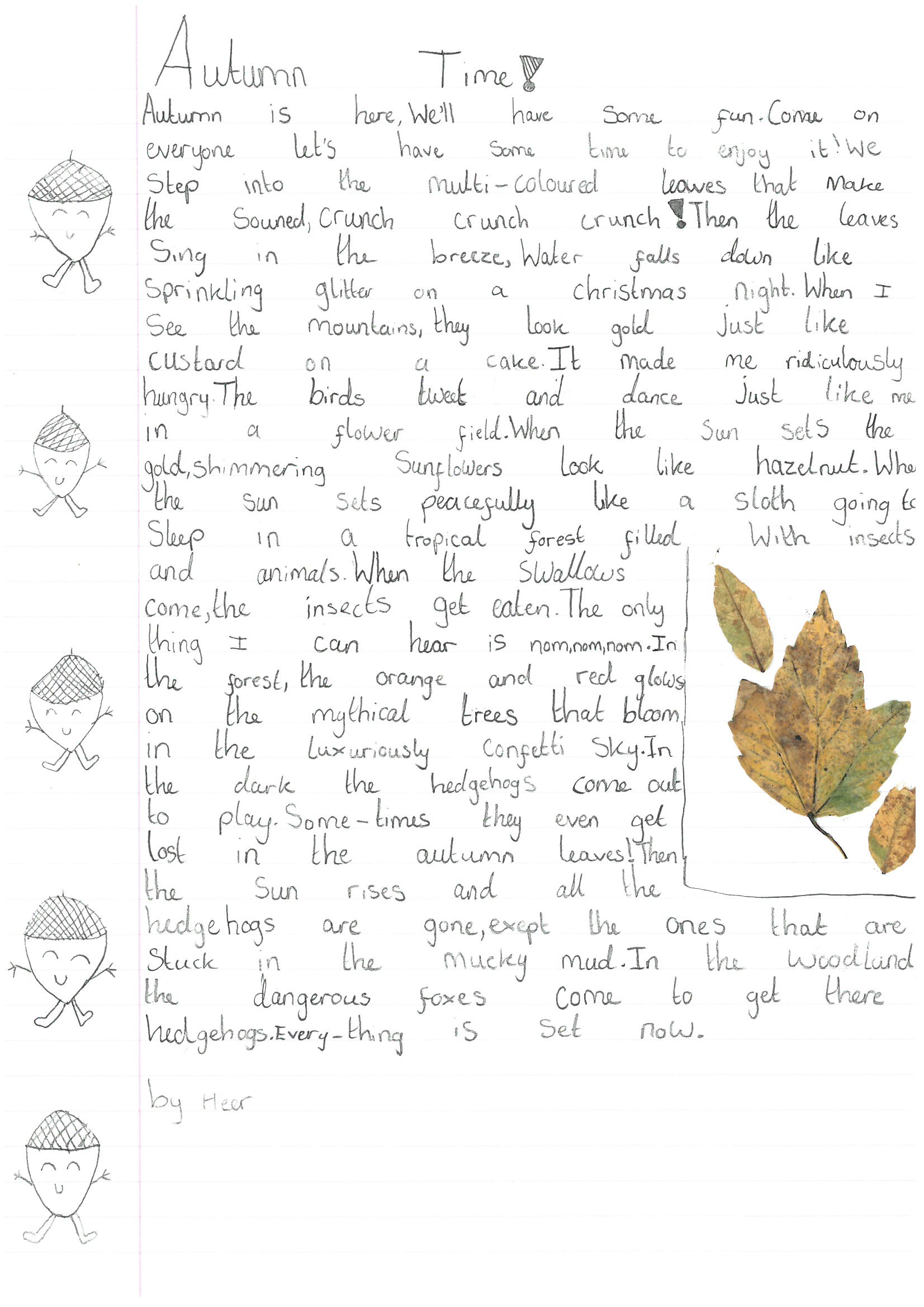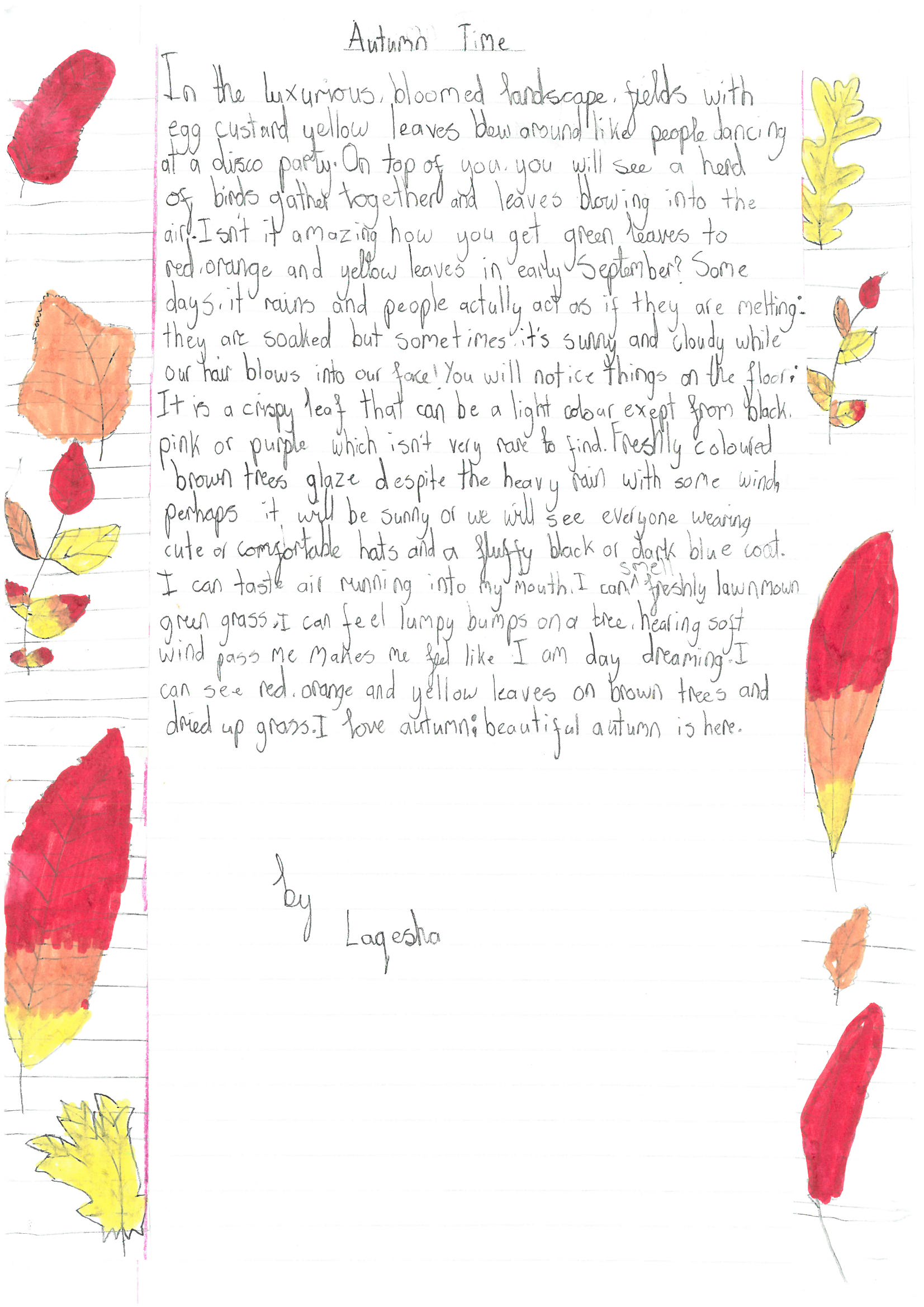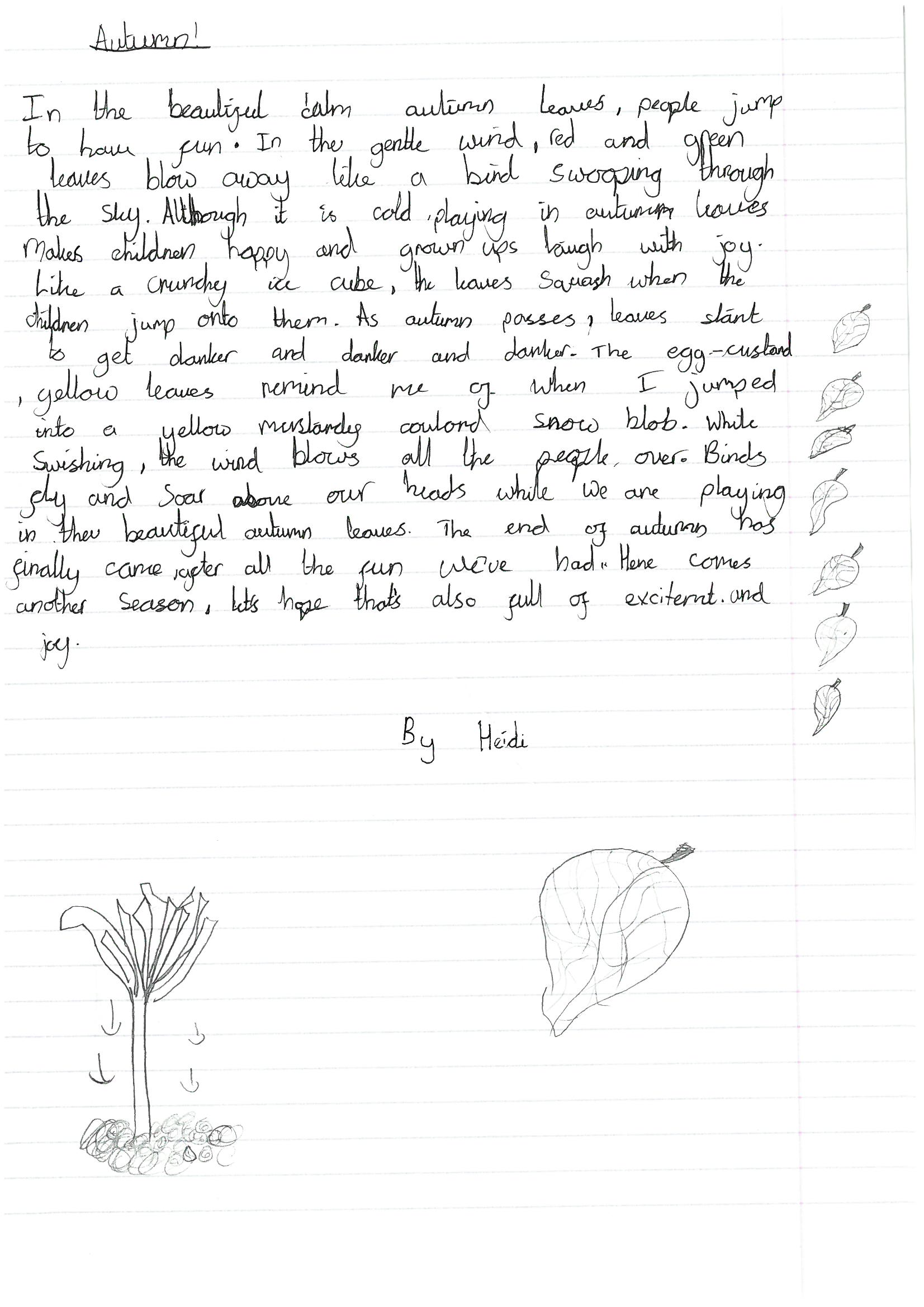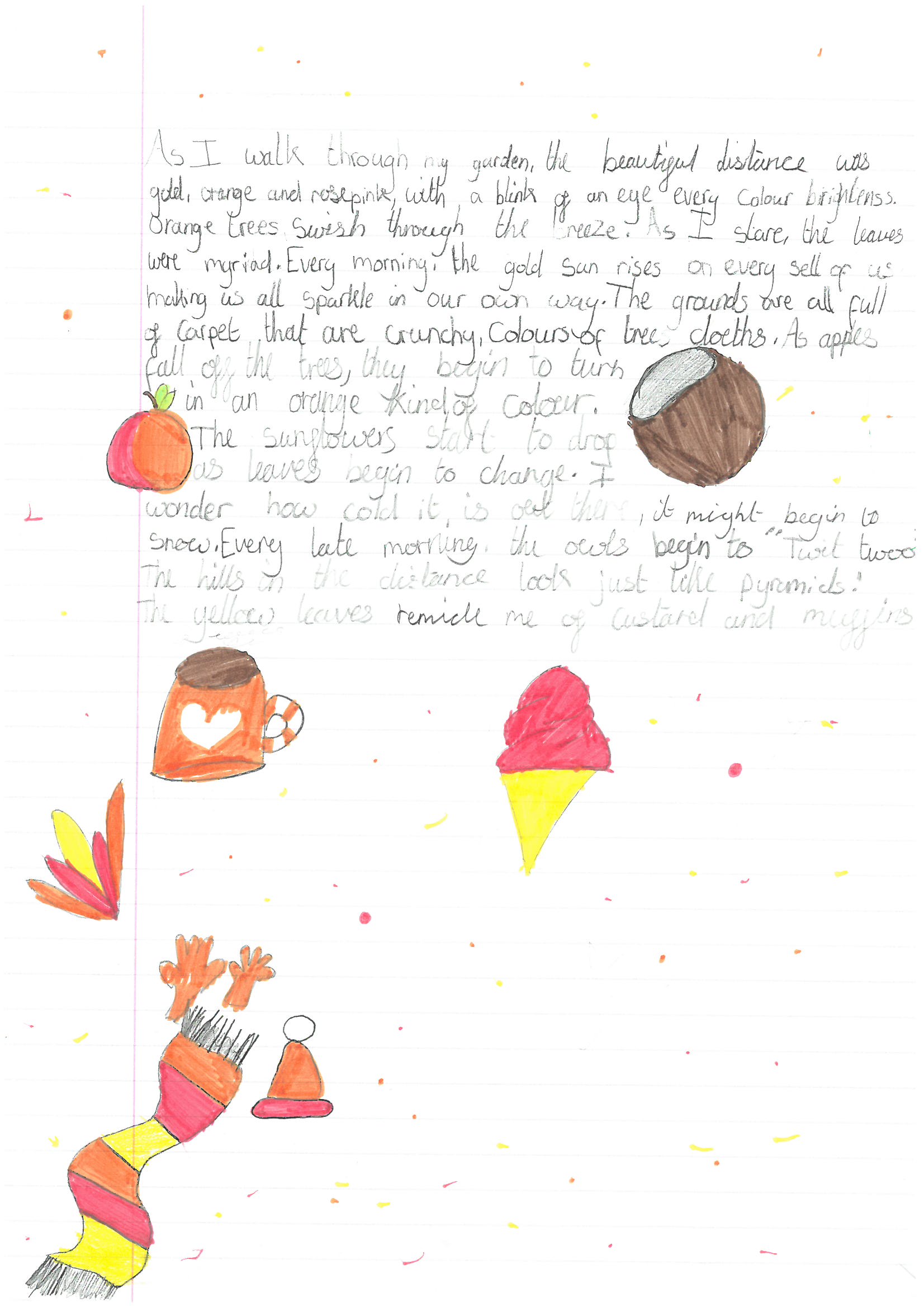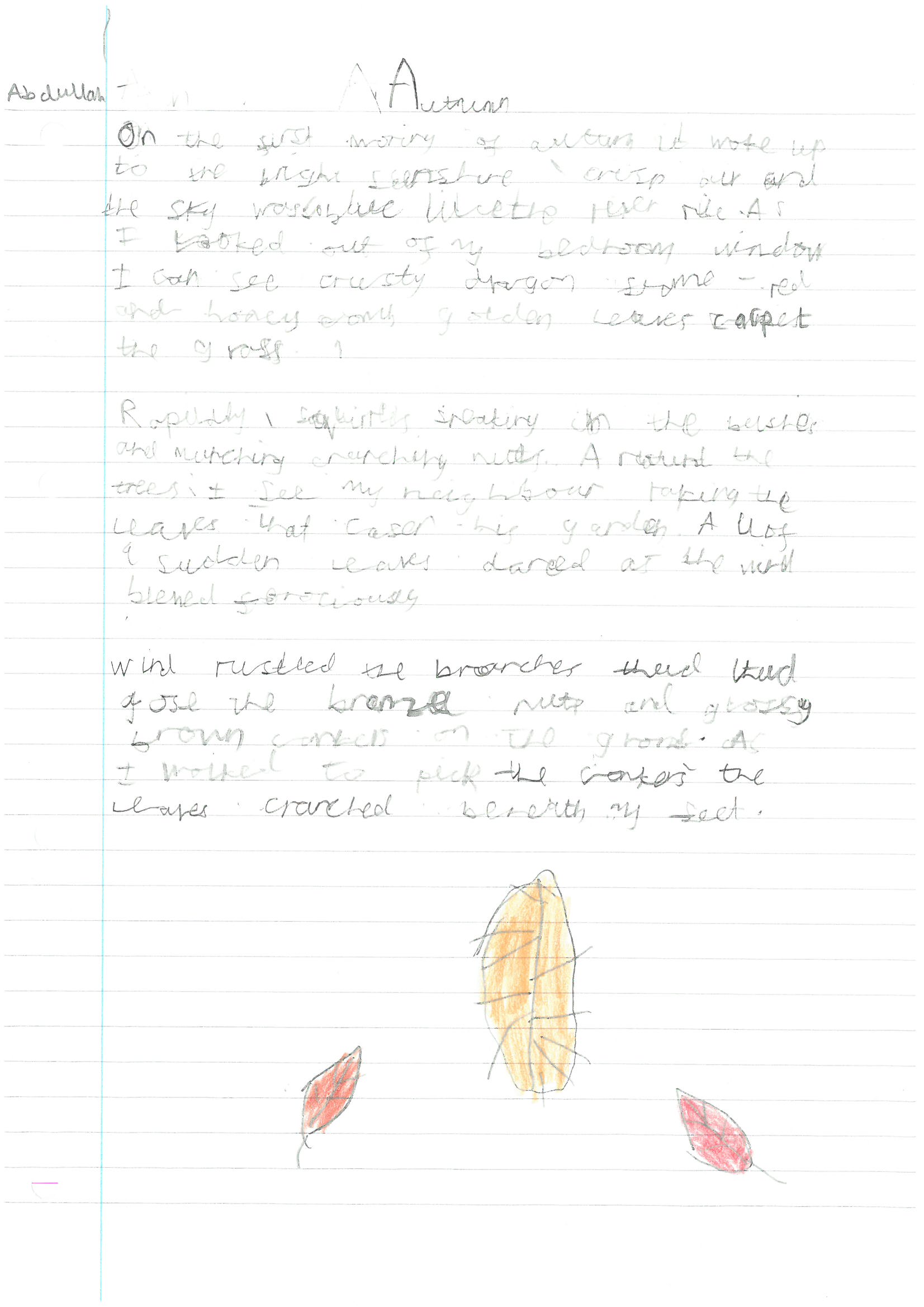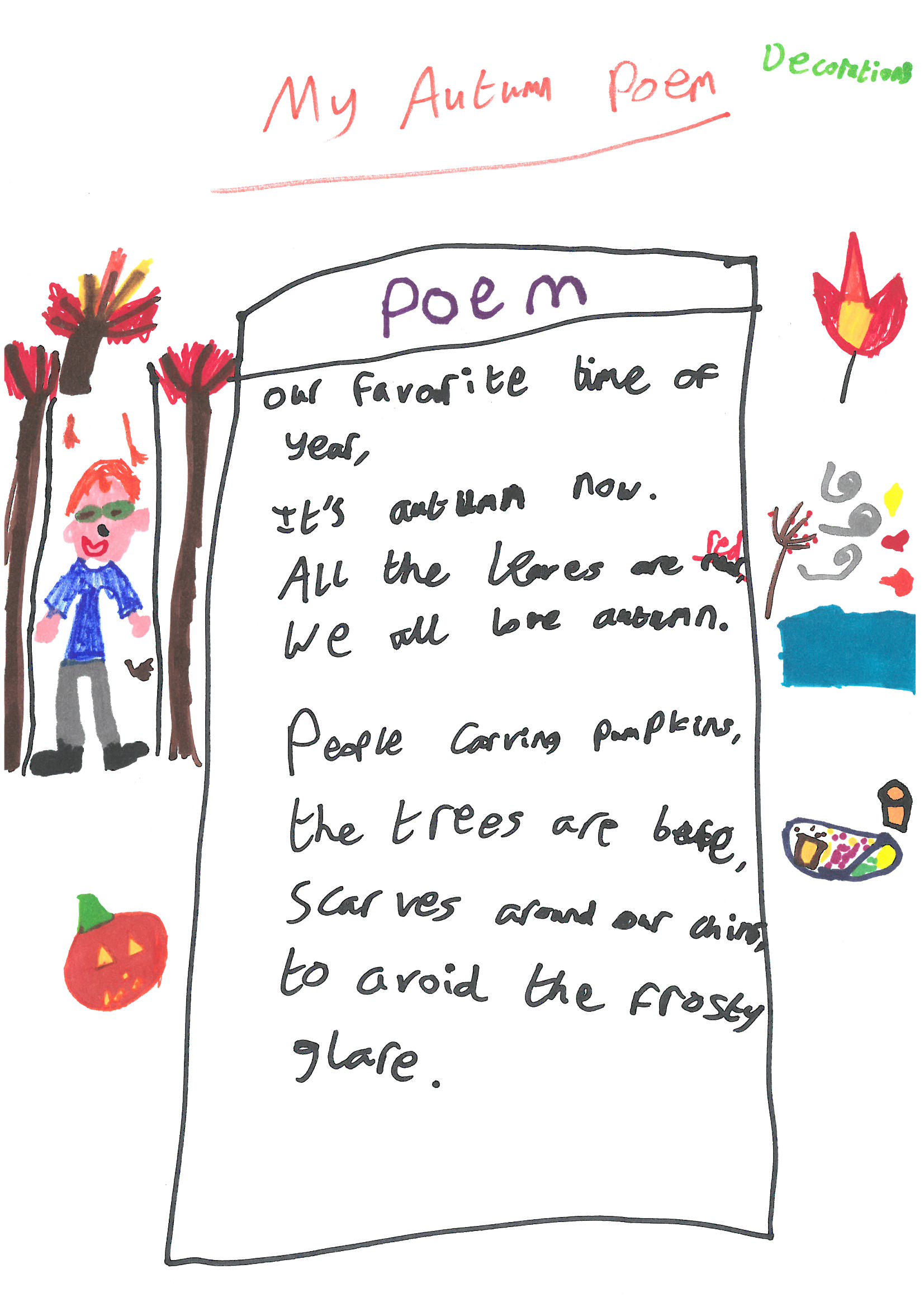 View the children's work or read below...
---
Autumn Time! – by Heer
Autumn is here, we'll have some fun. Come on everyone let's have some time to enjoy it! We step into the multi-coloured leaves that make the sound, crunch crunch! Then the leaves sing in the breeze, water falls down like sprinkling glitter on a Christmas night. When I see the mountains they look gold just like custard on a cake. It made me ridiculously hungry. The birds tweet and dance just like me in a flower field. When the sun sets the gold, shimmering sunflowers look like a hazelnut. When the sun sets peacefully like a sloth going to sleep in a tropical forest filled with insects and animals. When the swallows come, the insects get eaten. The only thing I can hear is nom, nom, nom. In the forest, the orange and red glows on the mythical trees that bloom in the luxuriously confetti sky. In the dark the hedgehogs come out to play. Sometimes they even get lost in the autumn leaves! Then the sun rises and all the hedgehogs are gone, except the ones that are stuck in the mucky mud. In the woodland, the dangerous foxes come to get their hedgehogs. Everything is set now.
---
Autumn Time – by Laqesha

In the luxurious, bloomed landscape, fields with egg custard yellow leaves blew around like people dancing at a disco party. On top of you. You will see a herd of birds gather together and leaves blowing into the air. Isn't it amazing how you get green leaves to red, orange and yellow leaves in early September? Some days it rains and people actually act as if they are melting: they are soaked but sometime it's sunny and cloudy while air blows into our face! You will notice things on the floor. It is a crispy leaf that can be a light colour except from black, pink or purple which isn't very rare to find. Freshly coloured brown trees glaze despite the heavy rain with some wind, perhaps it will be sunny or we will see everyone wearing cute or comfortable hats and a fluffy black or dark blue coat. I can taste air running into my mouth. I can smell freshly lawn mown green grass. I can feel lumpy bumps on a tree. Hearing soft wind pass me makes me feel like I am day dreaming. I can see red, orange and yellow leaves on brown trees and dried up grass. I love autumn: beautiful autumn is here.
---
Autumn! – by Heidi

In the beautiful calm autumn leaves, people jump to have fun. In the gentle wind, red and green leaves blow away like a bird swooping through the sky. Although it is cold, playing in autumn leaves makes children happy and grown ups laugh with joy. Like a crunchy ice cube, the leaves squash when the children jump onto them. As autumn passes, leaves start to get darker and darker and darker. The egg-custard yellow leaves remind me of when I jumped into a yellow mustardy coloured snow blob. While swishing, the wind blows all the people over. Birds fly and soar above our heads while we are playing in the beautiful autumn leaves. The end of autumn has finally come after all the fun we've had. Here comes another season, lets hope that's also full of excitement and joy.
---
As I walk through my garden, the beautiful distance was gold, orange and rose pink, with a blink of an eye every colour brightness. Orange leaves swish through the breeze. As I stare, the leaves were myriad. Every morning the gold sun rises on every sell of us making us all sparkle in our own way. The grounds are all full of carpet that are crunchy, colours of tree, clothes. As apples fall off the trees, they begin to turn in an orange kind of colour. The sunflowers start to drop as leaves being to change. I wonder how cold it is out there, it might begin to snow. Every late morning, the owls begin to 'twit, twoo'. The hills in the distance look just like pyramids! The yellow leaves remind me of custard and muffins.
---
Autumn – by Abdullah
On the first morning of autumn, I woke up to bright, sensitive, crisp air and the sky was blue like the river Nile. As I looked out of my bedroom window I can see crusty dragon flame – red and honey earth, golden leaves carpet the grass.
Rapidly a squirrel's sneaking in the bushes and munching crunching nuts. Around the trees I see my neighbour taking the leaves that cover their garden. A lot of sudden leaves danced as the wind blew ferociously.
Wind rustled the branches their thud goes the bronze nuts and glossy brown conkers on the ground. As I walked to pick the conkers the leaved crunched beneath my feet.
---
My Autumn Poem
Our favourite time of year,
It's autumn now.
All the leaves are red,
We all love autumn.
People carving pumpkins,
the trees are bare,
scarves around our chins,
to avoid the frosty glare.
---
From Autumn – by Annie Worsley
Towards the end of August our Highland landscape is swathed in a royal blanket. The heather blooms quickly; whole hillsides are repainted in many shades of purple, sometimes almost in the blink of an eye. It is a febrile transformation which stretches into early September. Countless millions of tiny flowers and little bells open and their heavy scent fills the late summer air, when the atmosphere becomes intoxicating and somnolent. Hints of autumn flicker in and out. On some days the light is golden, and pours across the hills like honey; on others, it is sharp, bright and crisply cold. The nights are no longer white and pearl grey, but darken swiftly.
In the croft fields wild flowers are setting seeds. Insects dart about in search of remaining nectar, their wings white, yellow and orange, some spotted or banded, others translucent, fragile and opalescent. Birds, pale breasted but with colourful caps and bright feathers, chatter and sing as they skim along the river banks and through the fields from seed head to seed head. On the few overhead wires, swallows gather. Their nests in the byre have been tidied and in between the chattering pauses they fly, dipping and flashing across the river, swerving over the fields. On these end-of-summer, sometimes warm days, the air shimmers; insects cascade and billow as myriad birds rush to feed.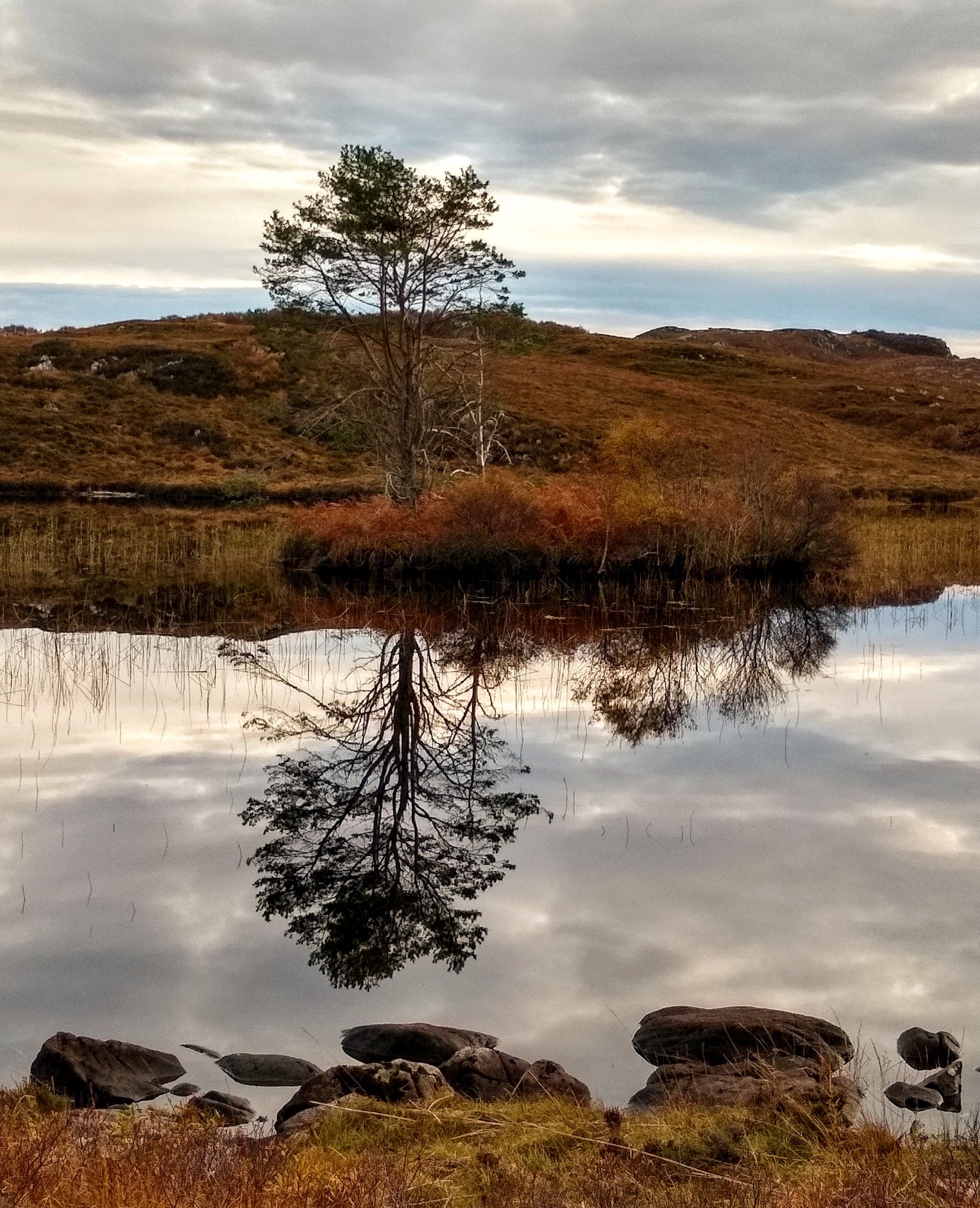 The land luxuriates in those snatched days of golden and rose-pink warmth and especially in the scented gift of calm evenings which come in colours of hazy blue, crimson, coral, copper and rose. When the sun finally sets there is a sudden firing of turquoise light which glows like an unexpected glaze on pottery taken freshly from the kiln, so that for a few moments it outshines all else, until it too dissipates. But it is a cold light. It warns of change. Autumn is coming.
The heather's bloom does not last long, two, perhaps three weeks if the weather is kind. But then the flowers turn to dusty gold. Greens and purples give way to bronze and umber. Soon the fields turn egg-custard yellow with sprinklings of cinnamon where terracotta seed heads of sorrel, burnt-umber plantains and ground-ginger rushes still stand proud. In late afternoon sun the machair now looks more Mediterranean, the dying dryness of flower petals and seed heads weaving into the copper and rust of bracken fronds and the waving grasses.
On the mountains, tussocks of deer grass open out like the coat of a red deer hind parted to reveal the speckled paleness of her under-fur. Almost hidden in the heather, red leaves of tormentil trail like bracelets made of rubies. Sphagnum mosses glow in absinthe and claret, tiny plum-coloured berries of bog rosemary resting on the top of their spongy cushions. Along the shore, close to the croft, russet and orange colour the boulders while on the sands strings of mermaid's tresses mingle with the auburn feathers of dabberlocks and sugar kelp. Above the strand-line, sorrel seed heads stand like tall, iron-rust swords or flames of vermillion.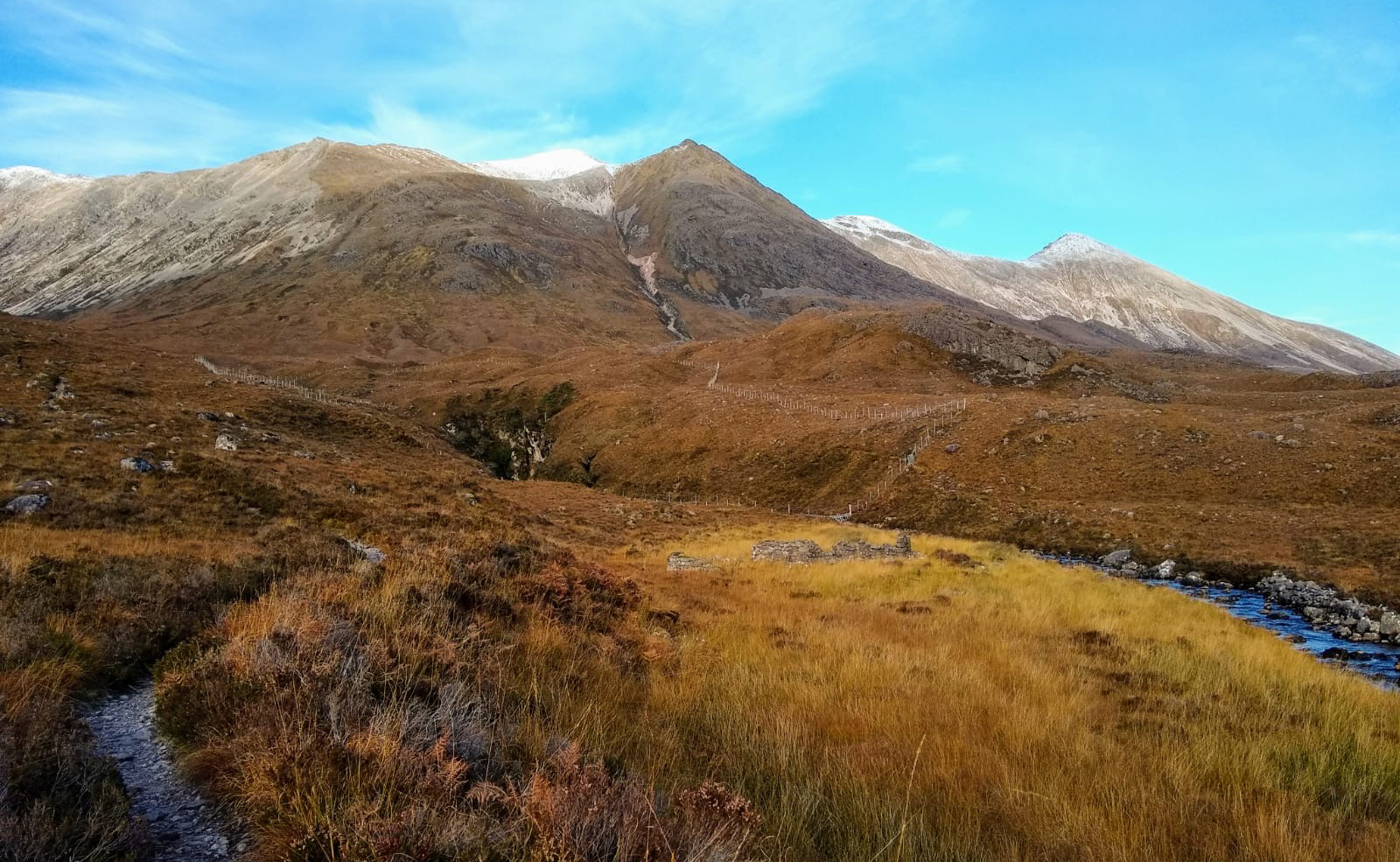 Then suddenly the swallows have gone. The air is quieter for their departure, but other, more measured voices fill the spaces: robins singing quiet laments of farewell and longing, separation and loss. Even though I know they are really songs of fighting, boundaries and ownership, and I admire their feistiness, to me they are heralds of summer's flight to the south. Much higher, in the open spaces above the fields, there are new sounds. Geese begin to arrive, windborne squadrons of raiders from the north, honking and gliding in wedges, and then landing in guffawing gaggles in the meadows by the river. Their calls are powerful, evoking further pangs of melancholy, but they do not stay long. Our croft is one service station on their aerial motorway to their food-filled estuarine winter holiday homes. They feed vigor­ously and rest. Then, at some unseen signal, they lift and rise up over the hills to slowly disappear from view.
In the woodlands the first trees to betray summer are silver birches: splashes of yellow dapple their fine, shimmering greenery.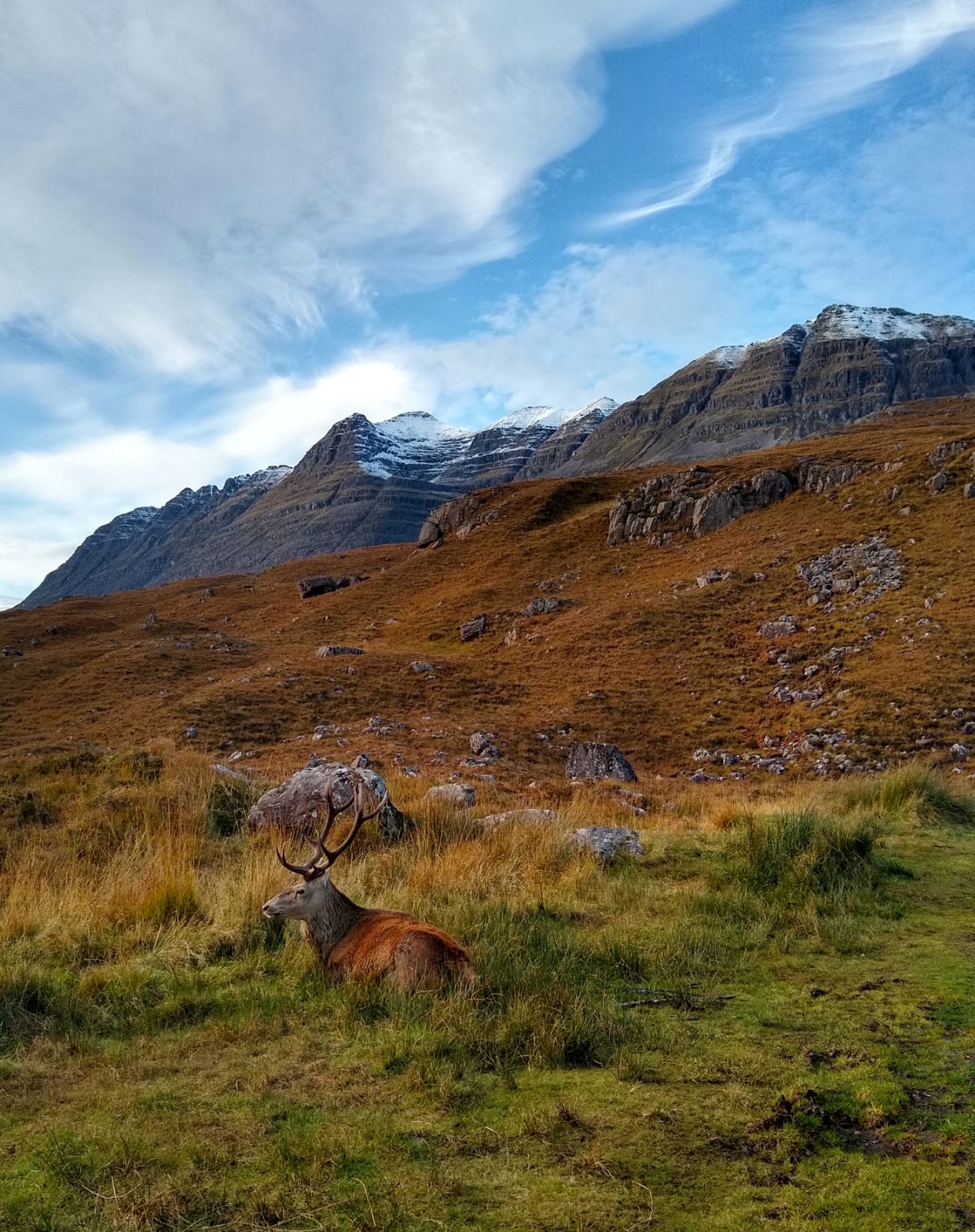 Here and there, long wavering larch tresses begin to change from deep green to orange and ochre. Gradually the azurite, ultra­marine and verdigris of late summer is overlain by Byzantine bronze, copper and gold, and even on days of dull, grey cloud, the oranges and deep russet reds glow as if hot. Slowly, steadily leaves begin to fall: silver birch and aspen leaves descend in gentle cascades like confetti, oak, sycamore and beech leaves spin down crunchily. Hedges are stippled with blackberry and rosehip, woodlands with berry and nut. Fungi of varying size, shape and shade surprise us with their sudden appearance, sprouting here, opening there, tucked alongside old fence posts, logs and branches. And each day, as a little more light is lost, trees, shrubs, herbs and grasses defiantly erupt in volcanic colours to compensate for the coming of the dark and cold.
As September progresses, autumn fiercely rushes towards us in the chaos of Atlantic storms. They are heralded at first by high, thin, white ripples of pearlescent clouds with rainbowed iridescent edges. Soon strong westerly winds blow hard and wet, returning again and again and again to strip trees, churning leaves into skirmishing maelstroms of colour. Summer lochs and coastal seas of turquoise and quicksilver are transformed into pulsating gunmetal grey, cobalt and aquamarine, topped by high jumping horses of brilliantine and white. The shore becomes furious then; sand, shells, stones and ocean detritus are hurled about to crash down into high mounds and ridges. Across the machair mists and mellow fruitfulness are torn apart; birds take to the air and are thrown about like charcoal-black scraps of paper burnt on a fire and caught in updraughts. When the rains come to accompany the winds our rivers and burns convulse and carry leaves, twigs and branches down to the sea. The coastal Highlands become a battleground between land, air and water.
But then, above the tumult in the sea and skies, other, wilder voices of war are heard: stags are corralling their harems and defiantly readying themselves for battle. Their roars and bellows ricochet from crag and hill and echo along the riverbanks. It is the rut. Wild, glorious autumn is here.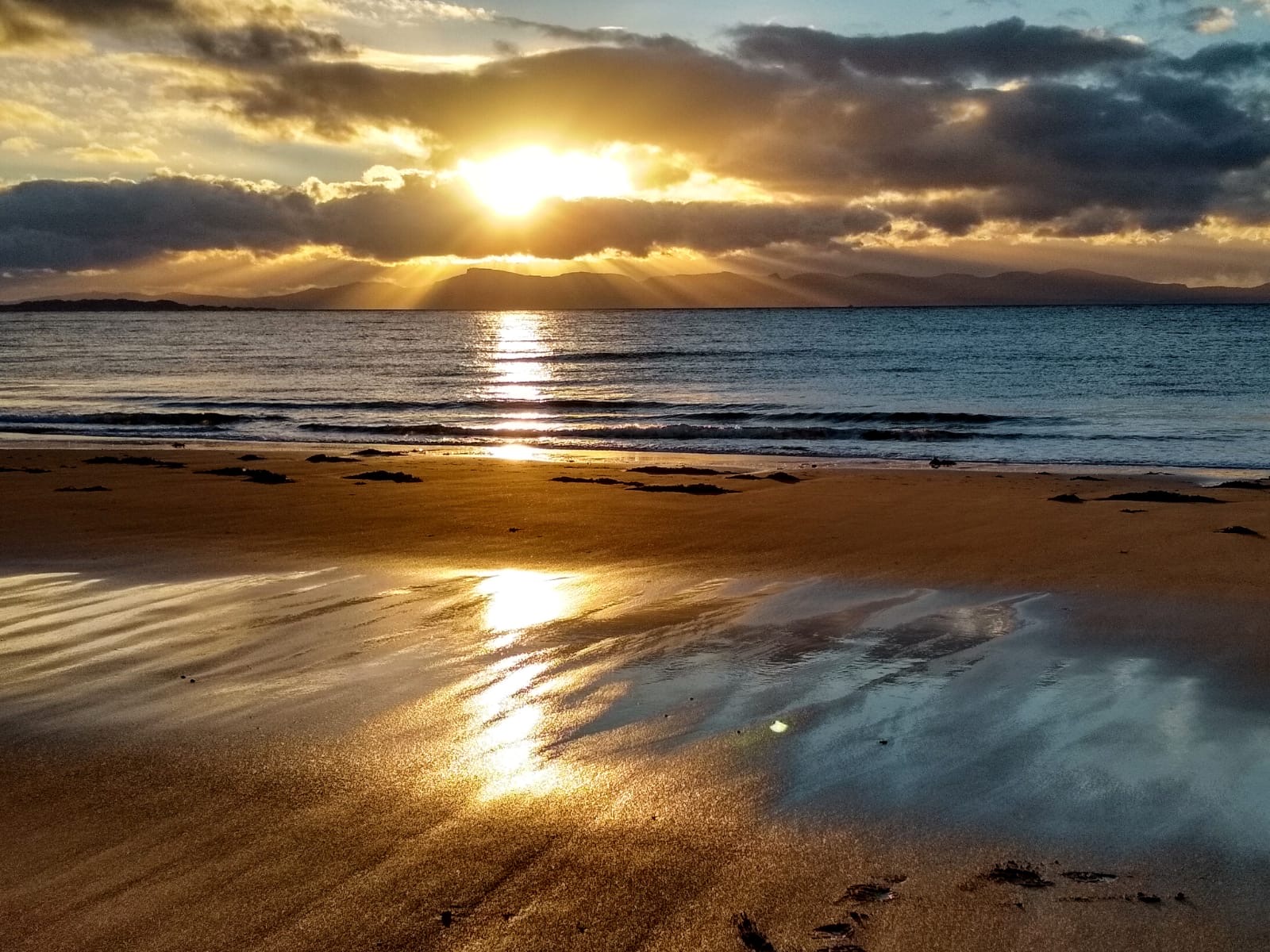 Essay published with permission of Elliott & Thompson Limited, © 2016
---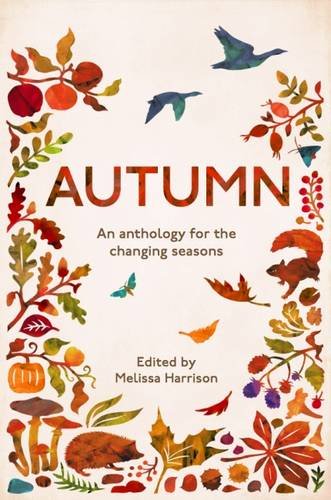 Autumn is available to purchase online and is also available as an e-book.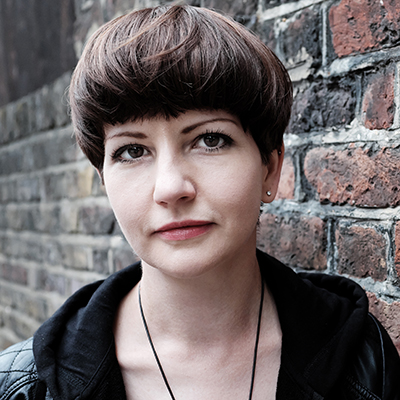 Melissa Harrison is a writer, novelist and journalist. Her first novel, Clay, was publiished by Bloomsbury in 2013 and her second, At Hawthorn Time (Bloomsbury, 2015), was shortlisted for the 2015 Costa Novel Award. All Among the Barley was published by Bloomsbury in August 2018.
Melissa won the John Muir Trust's 'Wild Writing' Award in 2010 and was a Writer in Residence at Gladstone's Library in 2014. She has appeared on Radio 4's Open Book and The Arts Show on Radio 2, and also writes for the Nature Notes column in The Times.
Melissa lives in Suffolk, England and you can follow her @M_Z_Harrison on Twitter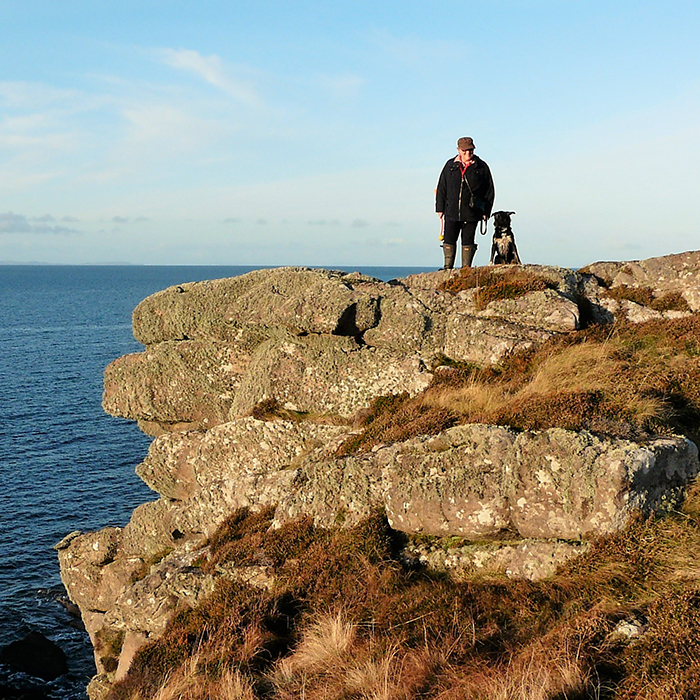 Annie Worsley is a writer, physical geographer, crofter and Professor of Environmental Change. Her academic research focuses on human impacts and the nature and rates of change in UK coastal, peatland and urban environments, and in the mountains of Papua New Guinea. Although living remotely Annie continues to work with her research colleagues in UK universities.
Annie is a keen amateur photographer, a valued contributor to Elementum and regularly blogs and continues to write scientific articles in academic journals. Annie is currently writing a book about the life and wildlife of Red River Croft.
Annie lives in the North West Highlands of Scotland with her husband Rob, dog Dram, Shetland ponies and assorted wildlife. She is a mother of four, and now grandmother of four very small, wonderful humans.
You can follow her @RedRiverCroft on Twitter and @red_river_wild on Instagram